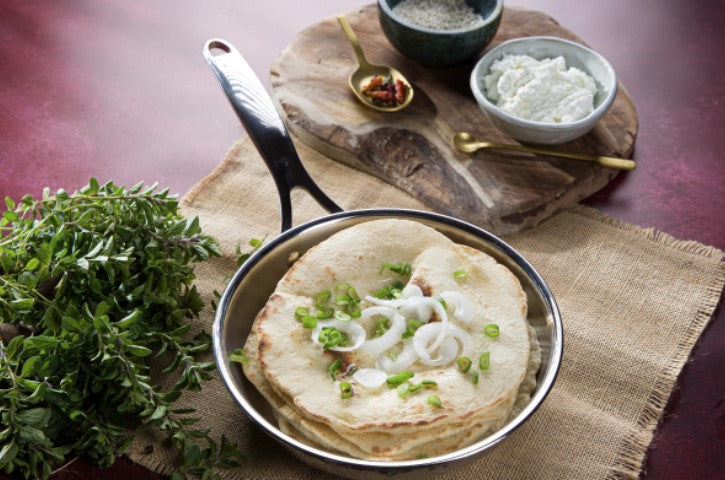 PAN FRIED PITA BREAD
INGREDIENTS
200 ml warm water
4 g instant dried yeast
10 g granulated sugar
350 g flour (this may vary depending on the flour)
4 g salt
1 tbsp. olive oil plus more oil for the resting time
RECIPE
1 Dissolve the yeast in the warm water with the sugar (ensure the water does not exceed 30°C or the rising power of the yeast will be reduced). Leave to rest for 10 minutes.
2 Sieve the flour and the salt into a bowl, make a well then add the water with the yeast and the olive oil, knead until a smooth ball of dough forms. Tip the ball of dough onto the work surface and knead for another 5 minutes. If the dough sticks, add a little flour.
3 Add the ball of dough back into the bowl, coat in olive oil and cover with cling film and leave to rest at room temperature until it has doubled in size.
4 Knock back the dough and cut into 6 to 8 pieces. Shape into balls and roll each into a 16/20cm disk with a rolling pin.
5 Place a frying pan over medium-high heat, do the water drop test. When you reach the right temperature, add a pita bread to the pan and allow to cook until bubbles form.
6 Turn the pita bread and cook for around another 2 minutes, turn again and cook until the pita bread puffs up, you must turn the bread frequently.
Cristel Products used
Cristel Stainless Steel Pan