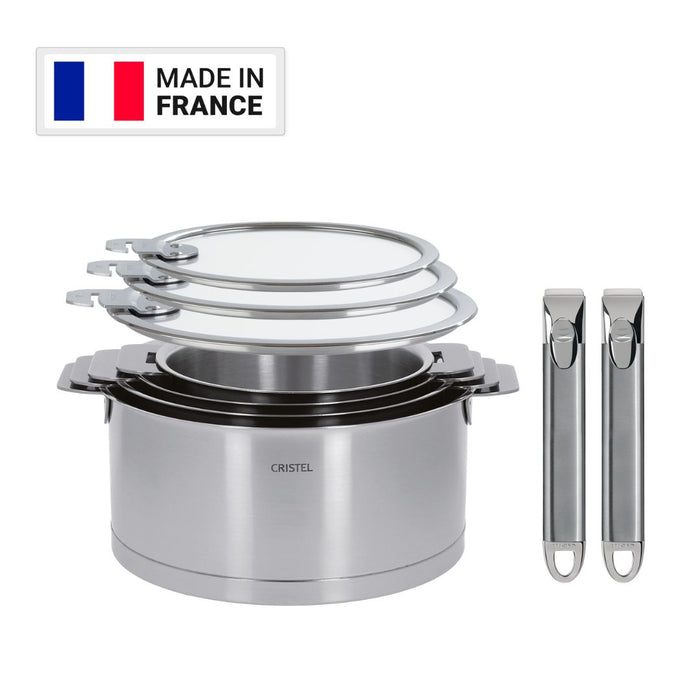 CRISTEL 3-Ply Stainless Steel Saucepan Set (14, 16, 18 and 20cm) with 3 x Flat Glass Lids and 2 x Detachable Handles
Original price
$639.00
-
Original price
$639.00
Cook like a Pro with patented detachable-handle cookware

CRISTEL 3-ply Stainless Steel Cookware is made to chef grade quality. Made with premium 18/10 Stainless Steel, these products have exceptional heat distribution thanks to the efficiency of their "L" thermo diffuser base. This ensures even cooking and eliminates risk of hot spots.
The innovative removable handle design is multi-functional - it brings in the benefits of compact storage, safety on the cooktop and allows you to transfer freshly prepared, steaming hot food directly from your stove or oven to the table for convenient serving.. Made in France, CRISTEL cookware is compatible with gas, electric, halogen and induction cooktops and is dishwasher safe.

100% MADE IN FRANCE: Bears 'Label Origine France' to guarantee that products are made entirely in France

EXCEPTIONAL THERMAL EFFICIENCY: L-shape thermo-diffuser base spreads heat uniformly during cooking and retains hot temp during serving.

LIFETIME WARRANTY: Covers all manufacturing defects

COMPACT STORAGE: Removable handle allows pans to nest inside each other for convenient storage

SAFETY ON THE COOKTOP: Cook to boiling temp handle-free so that handles never get hot. Detached handles also reduce chance of tipping over pans accidentally

DISHWASHER AND OVEN SAFE: Stainless steel pan safe up to 450°F, non-stick pan safe up to 

428°F

COOK AND SERVE WITH THE SAME PAN: Long handle can be switched for two side handles (purchase separately) for elegant table presentation

COMPATIBLE WITH GAS, ELECTRIC AND INDUCTION: Heavy duty 3-ply construction features 18/10 stainless top, aluminum middle and induction-compatible stainless bottom

EXCEPTIONAL THERMAL EFFICIENCY: L-shape thermo-diffuser base spreads heat uniformly during cooking and retains hot temp during serving.

ADVANCED DESIGN: Ultra premium brushed stainless finish and efficient pouring edge to reduce spills
IN THE BOX
1. 14cm Stainless Steel Saucepan. Capacity 1L. Height 7.5cm
2. 16cm Stainless Steel Saucepan. Capacity 1.6L. Height 8.5cm
3. 18cm Stainless Steel Saucepan. Capacity 2.1L. Height 9cm
4. 20cm Stainless Steel Saucepan. Capacity 2.9L. Height 10cm
5. 16cm flat glass lid
6. 18cm flat glass lid
7. 20cm flat glass lid
8. 2 x Removable Stainless Handle
COMPATIBILITY