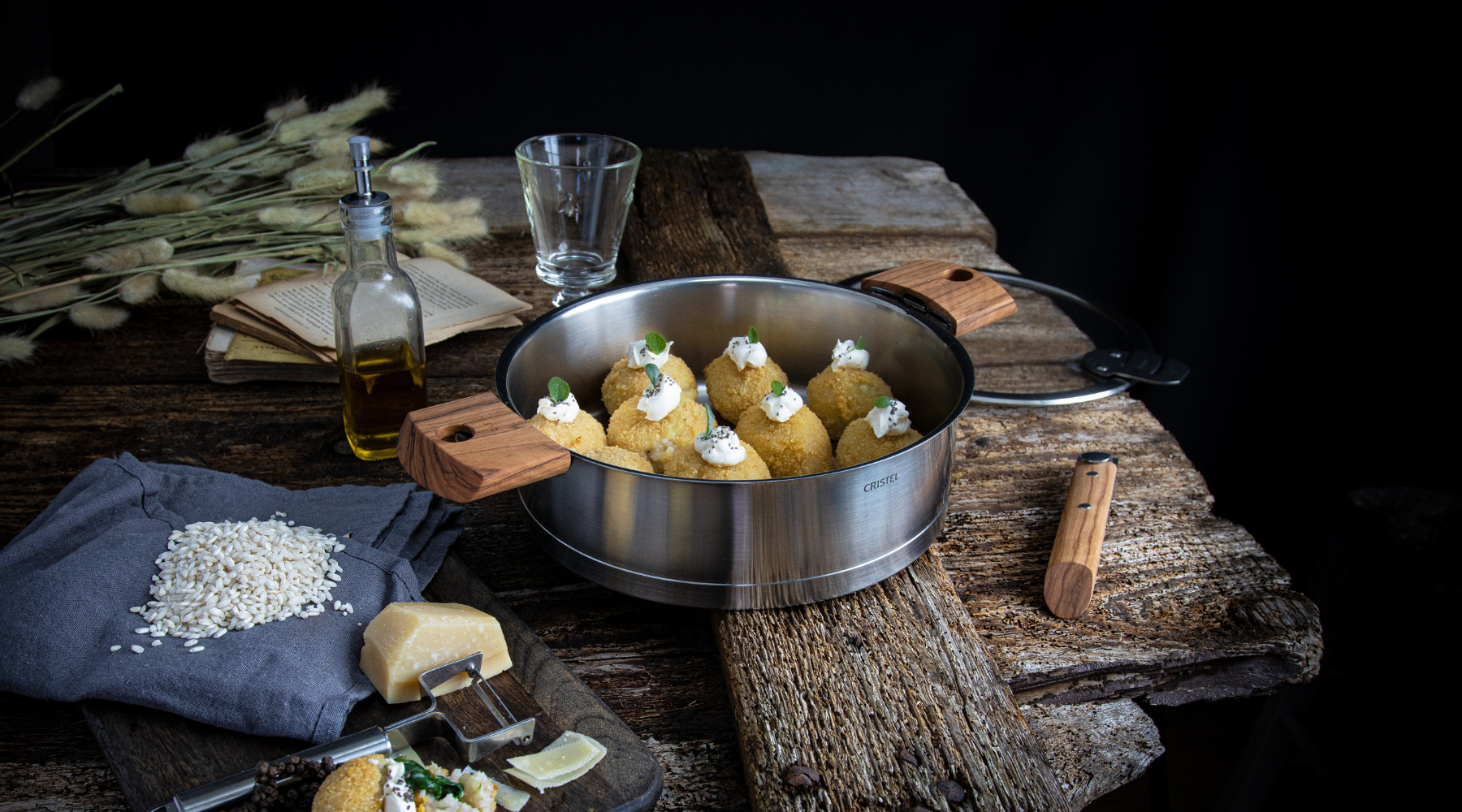 Arancini: Spinach rice balls
Experience a taste of Italy with our delectable Arancini: Spinach Rice Balls recipe. These golden, crispy bites are filled with a creamy spinach and cheese center, encased in a perfectly seasoned rice coating. Whether served as an appetizer or a main course, these savory delights are sure to impress with every irresistible bite.
INGREDIENTS:
200g risotto rice

60cl poultry stock

100g baby spinach

20g Parmesan

15g butter

15g flour

15cl milk

1 ball of fresh mozzarella, diced

150g flour

200g breadcrumbs

2 cups of frying oil

Salt/pepper
METHOD:
1/ Bring the poultry stock to a boil in the frying pan then add the rice, reduce heat and simmer for 20 minutes while regularly stirring.
2/ Remove the rice and set aside to cool.
3/ Clean the frying pan, bring to medium heat and add one spoon of oil, then fry the spinach for several seconds. Add the Parmesan.
4/ Melt the butter in a saucepan and add the flour while stirring, then add the milk. Cook for 2 minutes and season.
5/ With the heat turned off, mix the spinach into the bechamel sauce and add the mozzarella.
6/ Place a spoon of rice into the palm of your hand and create a cavity to insert a bit of the spinach mix.
7/ Pinch the top to seal the cavity and create a ball, repeat the operation.
8/ Mix the flour with 1.2 cups of water, dip the rice balls into the mixture then coat them with breadcrumbs.
9/ Place the balls in heated oil until they brown.
Tip: Your arancini will go great with a home-made tomato sauce.
Preparation time: 45 min
Cooking time: 40 min
6 servings
CRISTEL Products used:
CRISTEL Stainless Steel Saute Pan and Sauce Pan