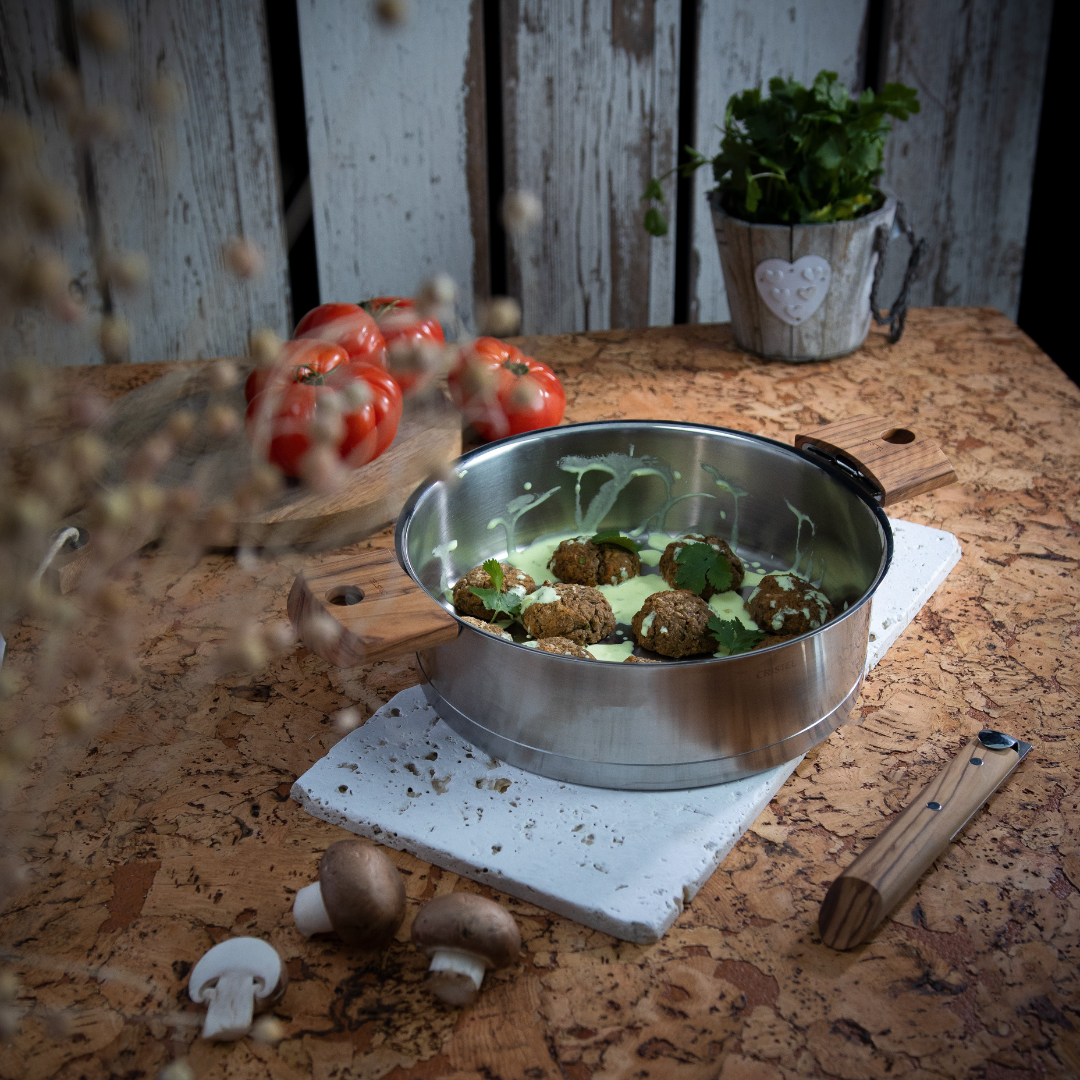 Vegan Lentil "Meatball" with Coconut Sauce
INGREDIENTS: 
250g green lentils

200g chopped button mushrooms

2 chopped onions

4 chopped garlic cloves

2 tbsp tomato concentrate

3 tbsp breadcrumbs

10cl vegetable stock

2 tbsp nutritional yeast

2 tbsp soy sauce

1/4 of a bunch of chopped cilantro

40cl coconut milk

1 tbsp turmeric

2 tbsp coconut oil

Salt & pepper

 
RECIPE:
1/ Cook the lentils in water then strain them.
2/ Heat the sauté pan to 2/3 of the maximum power of your stove with 1 tablespoon coconut oil; then sweat 1 onion and 3 chopped garlic cloves.
3/ Add the mushrooms, tomato concentrate, soy sauce, vegetable stock and cook for 5 minutes on medium heat.
4/ Add the lentils and turmeric and cook for 5 more minutes.
5/ Once the liquid has evaporated, blend with breadcrumbs. Season and set aside in a bowl in the refrigerator for about 30 minutes.
6/ In the meantime, sweat one onion and garlic clove with 1 tablespoon coconut oil for 5 minutes.
7/ Pour the coconut milk, add turmeric and reduce by 1/3 on medium heat. Season.
8/ Form "meatballs" with the lentils and place them on a cookie sheet lined with baking paper. Sprinkle with nutritional yeast.
9/ Cook for 20 minutes at 350°F (180°C).
10/ Serve with coconut sauce.
Tip: You can shape veggie burger patties instead of meatballs.
Preparation time: 25 min
Cooking time: 45 min
6 servings
CRISTEL PRODUCTS USED:
Stainless Steel Saute Pan