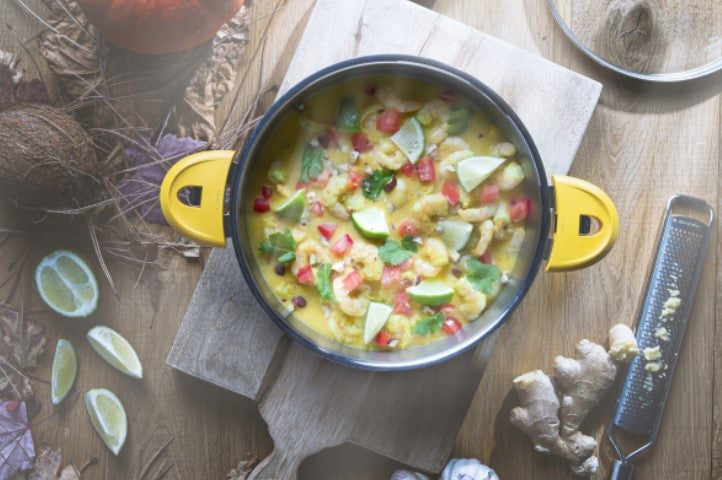 SHRIMP CURRY WITH PUMPKIN AND COCONUT CREAM
INGREDIENTS
7 lb uncooked peeled shrimps
3 minced garlic clove
2 minced shallots
3 Tbsp minced ginger
1 Tbsp red curry paste
3 cups chicken broth
1 cup coconut milk
1 lb pumpkin cut into cubes
2 tomatoes
juice of 1 lime
2 Tbsp olive oil
Salt/pepper
RECIPE
1 In a bowl, add the shrimps, garlic, shallots, ginger, and olive oil.
2 Mix and let marinate for 1/2 hour.
3 Heat the sauté pan at ⅔ of the maximum power of the stove, test the heat using the "water drop" technique.
4 Cook the shrimps for 30 seconds on each side then set aside.
5 Add the pumpkin, chicken broth, coconut milk, and the marinade.
6 Simmer for 20 minutes and blend.
7 Add the curry paste, lime juice and shrimps.
8 Simmer again for 2 to 3 minutes, season to taste.
9 Cut the tomatoes in small cubes, add to the pan.
Tip: Serve with rice, and sprinkle with chopped hazelnuts and cilantro.
CRISTEL PRODUCTS USED
Stainless Steel Saute Pan