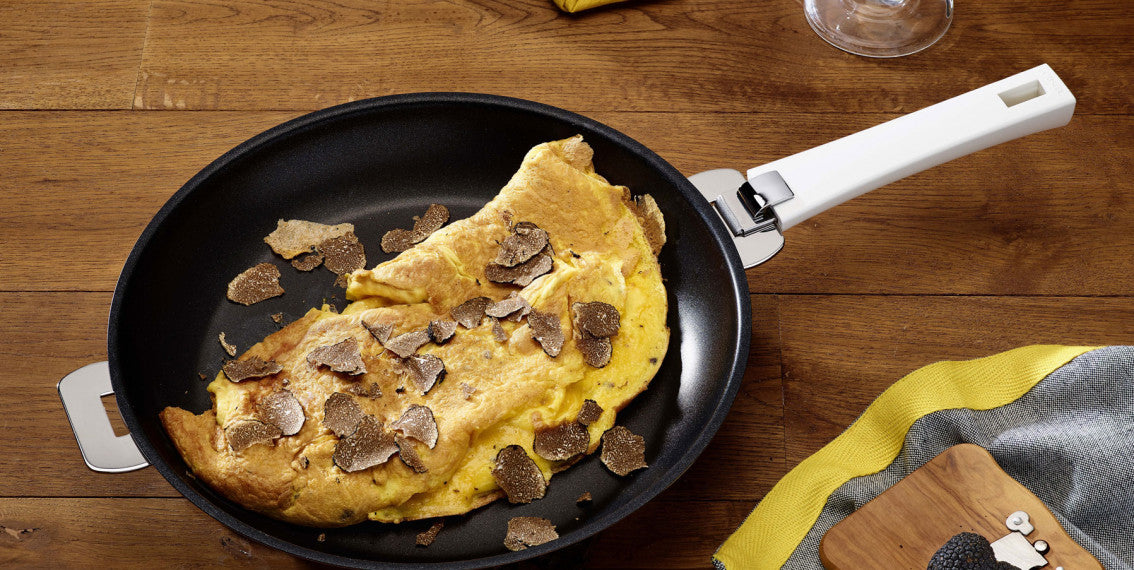 WHY ARE EXCELISS+ NON-STICK STAINLESS STEEL PANS SO EFFICIENT?
The Exceliss+ non-stick coating of CRISTEL cookware is entirely applied in France; it was developed to achieve the highest level of non-stick properties. Exceliss+ is a unique non-stick coating and is absolutely PFOA and PFOS free. The range includes stainless steel pans, sauté pans and woks in various sizes; they are available with detachable handles and carry a lifetime warranty against manufacturing defects. Our products are suitable for all types of stoves as well as for the oven and can be washed in the dishwasher without any problems.
EXCELISS+ : ABSOLUTELY NON-STICK
Our CRISTEL products with Exceliss+ non-stick coating, made in France, have been designed with a triple non-stick layer to guarantee the best results. The two bottom layers have been reinforced with titanium particles in particular for significantly better abrasion resistance. The final layer only has to fulfill its non-stick duties.
It is therefore not necessary to set the heat source to the highest level in order to cook. The CRISTEL thermal diffusion floors are designed to ensure the best possible heat distribution, which requires a minimum of energy. Gone are the days when you had to use oil or butter to be sure food wouldn't stick to the pan. Products with Exceliss+ are also a lot easier to clean because if nothing sticks, there's nothing to rub off!
SAY GOODBYE TO TOXIC MATERIALS 
The design and advanced technology of CRISTEL Exceliss+ make it possible: you don't need oil, butter or any other fat to prevent your food from sticking to the pan. Not only is this good for your health by reducing the fat in your diet, it can also change the taste of your cute little dishes! Your delicious egg and fish dishes are cooked perfectly in your stainless steel pan and lose none of their fine taste.
In addition, the heat in non-stick cookware is distributed evenly, so the food cooks faster than in a classic pan. The unique 3-layer non-stick coating of the Exceliss+ range is completely PFOA and PFOS-free. PFOA and PFOS are solvents that are considered harmful to health and the environment. You can find them in some cheap cooking utensils. So make sure you cook as healthy as possible with CRISTEL Exceliss+ !
EASY TO HEAT, EASY TO WASH
CRISTEL strives to make your kitchen even better and your life in the kitchen easier. One of the main advantages of the Exceliss+ cookware range is that it is suitable for all types of stoves. Whether you have a gas, electric, induction or halogen stove in your kitchen, our innovative products are suitable for all situations! Regardless of the heat source, our products are designed to provide the most rapid and even heat distribution possible, so your cooking can bring out the best possible results.
Our products are also suitable for the oven (up to 180°C, with or without a lid)! For cleaning, Exceliss+ non-stick coated products can be easily placed in the dishwasher. All those long minutes spent scrubbing your pans and pots are finally a thing of the past. You just put them in the dishwasher and everything comes out clean!