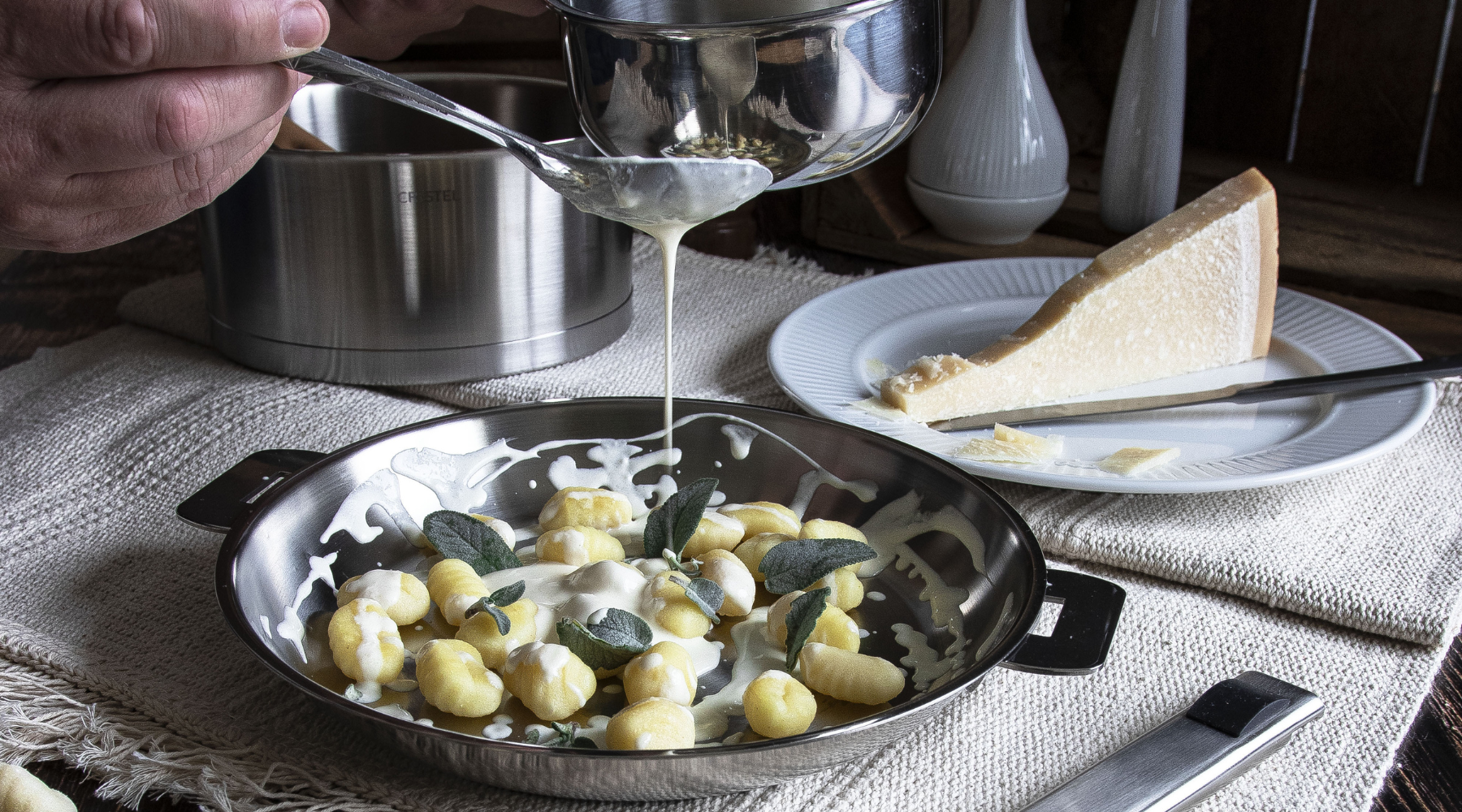 Creamy Parmesan Gnocchi with sage
Delight in the perfect harmony of pillowy soft gnocchi bathed in a velvety, parmesan-infused sauce, and enhanced with the aromatic essence of fresh sage. With its smooth texture and flavorful herbaceous notes, this dish is a perfect harmony of simplicity and elegance that will leave your taste buds longing for more.
INGREDIENTS:
500g potatoes

250g flour

1 egg

Salt & pepper
For the sauce:
25cl heavy cream

60g grated Parmesan

3 finely chopped sage leaves
METHOD:
1/ Peel and dice the potatoes into large cubes, then cook for 10 minutes in salted water.
2/ Strain the potatoes and put them back in the saucepan, then mash.
3/ Add the egg and slowly add the flour to form an even ball. Season.
4/ Form the dough into a long thin cylinder on a floured counter, and cut into 2 cm pieces.
5/ Roll each piece on the back of a fork to shape the gnocchi. Let sit for 30 minutes.
6/ Boil water in the casserole and drop the gnocchi, waiting until they float.
7/ Heat the cream and Parmesan in the frying pan while mixing with a whisk. Add the gnocchi, coating them in sauce.
8/ Sprinkle with finely chopped sage.
Preparation time: 45 min
Cooking time: 20 min
Serves 4
CRISTEL Products used:
CRISTEL Stainless Steel Sauce Pan and Frying Pan